Service & Repair
Service, Repair & Installation
ALEDco, Inc. Offers Complete Repair & Installation Services of All Types and Brands of Pumps and Mechanical Equipment.
Our Experienced and Factory Trained Staff has over 100 years Combined Experience in Repairing & Installing Pumps & Rotating Equipment . We also offer a 24-hour Emergency Service. Don't get Caught with your Pumps Down! Let the Pump Repair Experts at ALEDco, Inc. Handle your Next Service Requirement.
Pump Repair Service
All Major Brands and Types Including:
Centrifugal
Gear
Vane
Rotary Lobe
Disc
Submersible
Air Diaphragm
Mag-Drive
Vertical Turbine
Split-Case
Multi-Stage
Vacuum
Piston
Progressing Cavity
Blowers & Mixers
Gear Motors
Gear Reducers
Motors
In-Shop Capabilities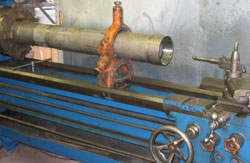 Complete Repair
Machining
Motor Testing To 100hp, 460V, 3 Ph
Impeller Trimmimg and Balancing
Metal Spray Welding
Performance Testing
Hydrostatic Testing
Stuffing Box Modifications
Shaft and Sleeve Repair
Mechanical Seal Modifications
Plasma Cutting
Custom Plastic Fabrication
Certified Welding, Mig Tig, Stick
Bead Blasting
Custom Painting
Field Services
We Offer Complete Field Repair Services of All Types and Brands of Pumps, Mixers, Blowers and Rotating equipment.
Field Service Capabilities
Removal and Installation of Pumps, Vacuum Pumps, Blowers & Mixers
Piping Installation
Fully Equipped Mobile Service Truck
Laser Coupling Alignments
Pick Up & Delivery
24 Hour Emergency Service
Ultrasonic Flow Testing
Certified Welding
Instrumentation Calibration Services
New Installation
We Provide Turn Key Installation Services of Pumps and Related Process Equipment. Contact us for Details.